Traditional hand hammered flat bottom wok 35 cm
Traditional, hand hammered flat bottomed wok 35 cm
enjoy the delicious Asian cousin in your kitchen – create the magical atmosphere of the streets of Shanghai
harness the authentic wok hei – unique flavours and aromas can be created only in wok
for your family or friends – traditional size of 35cm
perfect gift for yourself or your loved ones!
note: this wok has flat bottom, which fits for electric and induction stoves (or gas stove)
before first use it needs to season with oil – the surface becomes non-stick! It means less oil is needed for every usage
authentically hand hammered – this was made by a craftsman in Guandong for you!
traditional design and style
made of 100% toxic free materials
premium eucalyptus handle
Traditional hand hammered flat bottom wok 35cm
Make your own healthy and delicious meals at home! This wok is the one-pot wonder of Asian cooking. You can stir-fry, deep-fry, sauté, steam and braise easily using your Mammafong® wok.
Just right out from Guandong, a master craftsman hammered this wok for you. Stop for a moment, and think of it, human to human, with care, precision, and kindness. This is something we miss from this world. This is the spirituality Mamma Fong!
Let's get to know this wok!
This is for you when…
You want to go your own way: by making the first seasoning yourself alone, you enjoy the delight of your own work, establish an emotional link with your wok.
You feed a family: this model is 35 cm wide, which is a perfect size for up to 6 persons. It has a flat bottom for modern kitchen, fits for electrical or induction stoves (and of course gas stoves as well)! However hardcore wok lovers swear the uniqueness of flavours of round bottomed woks – we are sure that wok is for everyone – even those poor fellows, who owns electric or induction stove (like us).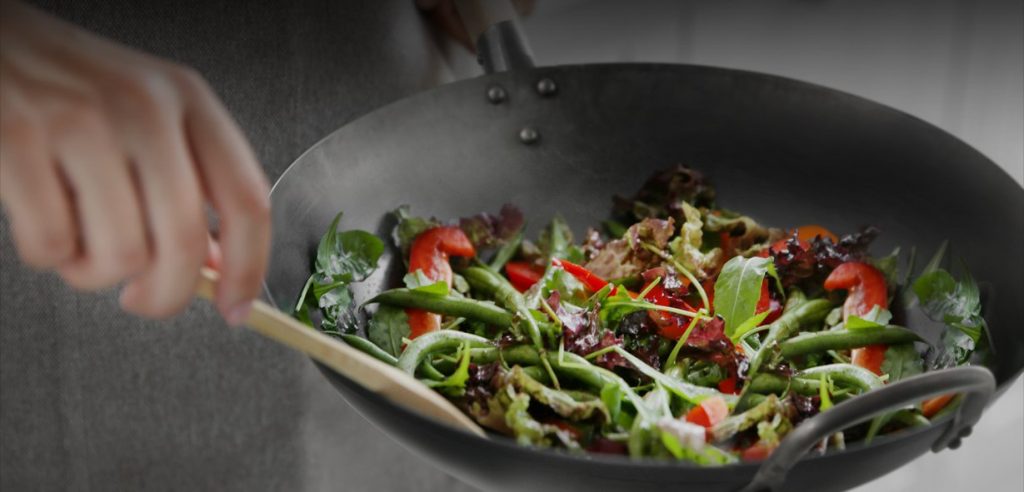 You look for the ultimate gift for a cook: for the chef who swears by carbon steel wok; for the home cook who's discovered the allure of carbon steel wok; for the guy with a penchant for cooking; for the mom who appreciates a quality wok – give them all the gift of a carbon steel Mammafong® wok.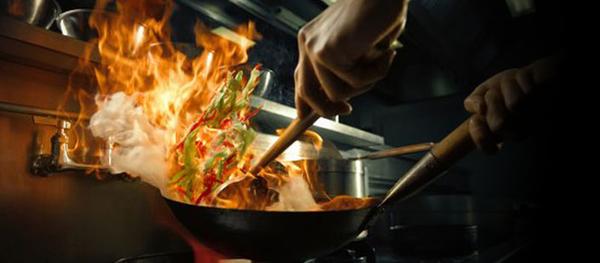 Traditional, natural materials
Some important notes from the materials! Our carbon steel wok sits nicely between stainless steel and cast iron. It is as light as stainless steel and as non-stick as cast iron. Made of heavy 16-gauge (1.2mm) carbon steel that is lightweight for easy lifting while you cook. Traditional carbon steel construction disperses heat evenly and quickly for optimum cooking performance. It ensures fast heats up and heat retention.
The handle is made of 100% natural eucalyptus, which not only durable and ergonomic but looks nice too.
With proper care and maintenance, your Mammafong wok can give you a lifetime of delicious meals!
Flat bottom
Flat base sits securely on any stovetop. Suitable for gas, electric and induction cooking. Based on our personal experience, it can be heated up very fast on gas or induction stoves, it takes a little bit longer on electric (depending - of course - on your device's parameters).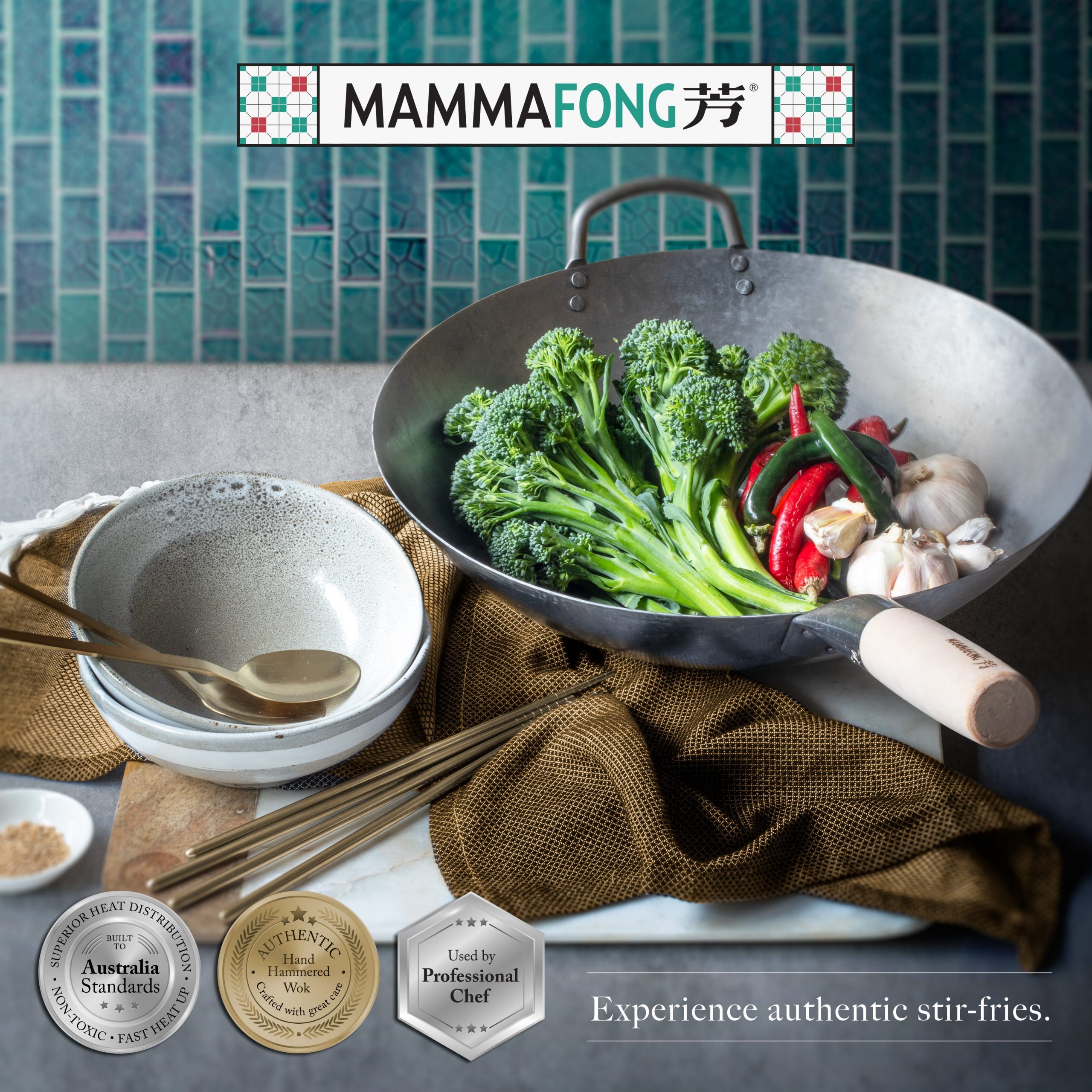 100% healthy cookware
Hand hammered, traditional, flat bottomed shape, made of only 100% non-toxic materials. This is super important, as you can be absolutely sure, that your meal is not contain any material from the pot, or surface, or coating. Why is that? Teflon or other pans with coating are super non-stick, but sooner or later get scratches and the tiny pieces of damaged coating goes into your food. The healthy alternative to non-stick cookware is the seasoned carbon steel wok, like ours. It is 100% non-toxic: free from PFOA, PTFE, PFOS and Lead.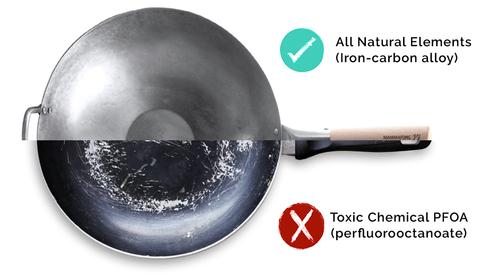 Before first use
To create a non-stick surface, you shall start your journey into the world of wok. Do not panic, this is a simple method you can do in your kitchen! We have many tutorials here! The whole thing is about burning 100% natural oil (the best is peanut oil) the wok surface. No worries, when you see different colours on the surface, this is natural! Your wok changes colour after every use.
So after the seasoning, the surface becomes non-stick – without any harmful materials! 10-15 Minutes job only, and your wok is ready to use. Enjoy your wok-time!
Cleaning
The best way of cleaning is actually pretty simple. Use only water and a soft sponge, or a bamboo brush which is even better (and much more traditional). Remove every dirt, then wipe out with a paper towel or cloth. When it is dry pour in a little peanut oil and wipe evenly to the surface!
Do not use detergents, or if you do, make sure that remove all of them with water and wipe it dry properly!
Additional information
| | |
| --- | --- |
| Weight | 1.5 kg |
| Dimensions | 19 × 35.5 × 57 cm |
| Gyártó | Mammafong |