Heavy duty, commercial graded woks for restaurants and professional chefs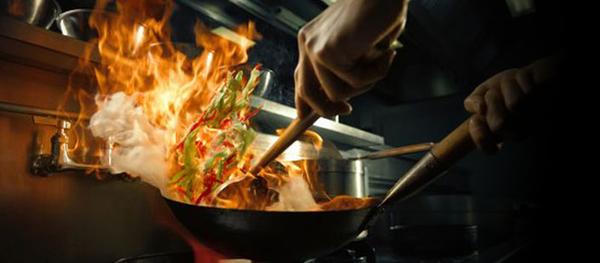 [Mammafong's autentic Chinese woks are built to last and stand up to the demands of busy commercial kitchens.
Made of heavy 16-gauge (1.2mm) carbon steel that is lightweight for easy lifting while you cook. Traditional carbon steel construction disperses heat evenly and quickly for optimum cooking performance.
Mammafong is the go-to wok manufacturer of many chefs whenever they need a durable hand hammered carbon steel wok. The 35 cm (14-inch) Mammafong woks are specially designed to withstand high commercial cooking routines.  The ergonomic design makes sure that it can stand to the harsh commercial kitchen conditions hence a great hand hammered wok for restaurants or professional chefs. The authenticity of the wok material and its sturdiness is going to last you for years. The heavy gauge body works great for better heat distribution. At the same time, with its wooden mandarin handle, there is hardly any problem with handling the wok on high heat. You will get intense smoky meals, every time you get your hands on the wok.
If you wish to upgrade your commercial kitchen with Mammafong woks we are happy to start a cooperation! Lets contact us via hello[at]woklove.com!